High-precision metering technology
SilcoStar metering systems are available in servo-electric or hydraulic versions. Both systems are characterized by precision and reliability.
The SilcoStar e-Flow series is a servo-electric metering system with variable mixing ratio for the production of liquid silicone mouldings.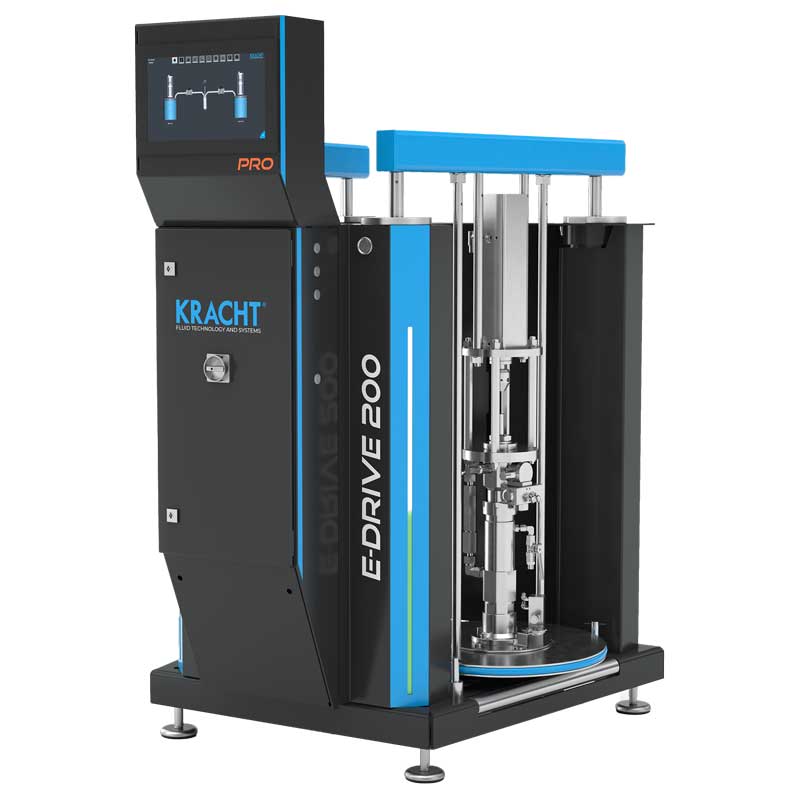 Viscosity: < 1 000 000 mPas
Output mixed material: 1 000 g/min / 2.20 lbs/min
(depending on viscosity)
Mixing ratio: Variable
Colour metering: 0.3 … 4 %
Actuation: Servo-electric
> Production of liquid silicone mouldings such as baby dummies, face masks, medical tubes, medical implants or blood filters
> Servo-electrically driven linear drive with brake and planetary roller screw drive
> High-precision metering pumps even with low shot weights
> Uniform emptying of the barrels through volumetric adjustment of the mixing ratio and patented barrel bottom support
> Integrated roll-in device for easy positioning of the barrels and faster barrel changing
> Patented mixture pressure control directly at the inflow for a constant metering time of the injection moulding machine
> Pressure monitoring via pressure sensors at the pump outlets and at the metering head
> Integrated roll-in device with automatic barrel bottom support
> Volumetric flow monitoring
> Automatic pump venting
> Follower plate with automatic venting (combination follower plate for 20 and 200 liters)
> 1 liter / 0.26 gal colour supply pressure tank with level indicator
> 10 liter / 2.64 gal colour supply pump
> Mobile 20 liter / 5.28 gal colour supply unit with agitator
> Colour metering with metering valve and position indicator
> Cooling jacket for static mixer
> Metering control of A + B
> Colour metering control with volume counter
> OPC-UA interface based on the EUROMAP 82.3 standard
The alternative series SilcoStar 922E and the 20 liter / 5.28 gal variant 902E are hydraulically driven metering machines. These series are the perfect solution for simple applications. The basic equipment included forms the basic model of our SilcoStar product line. The simple operation makes the 922E and 902E particularly suitable for newcomers.
The hydraulic design enables energy savings of up to 90% compared to pneumatic machines.
Viscosity: < 1 000 000 mPas
Output mixed material: 1 000 g/min / 2.20 lbs/min
(depending on viscosity)
Mixing ratio: Variable
Colour metering: 0.3 … 4 %
Actuation: Hydraulic
> Production of liquid silicone mouldings such as baby dummies, face masks, medical tubes, medical implants or blood filters
> 1 liter / 0.26 gal colour supply pressure vessel with fill level indicator
> 10 liter / 2.64 gal colour supply pump with empty sensor
> Movable 20 liter / 5.28 gal colour supply pump with agitator
> Cooling jacket for static mixer
> Combo follower plate for 20 and 200 liters / 5.28 and 52.8 gal
> Machine connection with metering control, cooled static mixer and sensor for mixed material