kracht-mobile-hydraulics-1-en
kracht-industrial-hydraulics-en
kracht-mobile-hydraulics-2-en
We manufacture our cylinders as differential, synchronous, pull or push cylinders and as plunger cylinders. Available with adjustable end position damping, electronic proximity switches, electronic position measuring systems and water cooling.
Available for selection:
HYDRAULIC CYLINDER CNL – SINGLE AND DOUBLE ACTING
Cylinders of the CNL type series are designed as pure bolted constructions. Cylinder heads and bottoms are made of steel. "Seamless precision steel tubes" according to DIN 2391 are used for the cylinder tubes and high-strength steel is used for the ground, polished and hard-chrome plated piston rods.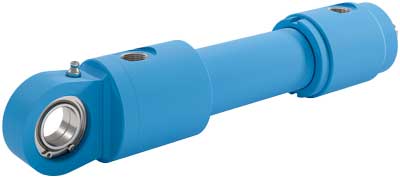 Nominal pressure
… 200 bar / … 2 901 psi
Piston diameter
40 … 100 mm / 1.57 … 3.94 inch
Stroke length
… 4 000 mm / … 157.48 inch
Block cylinders are used for lifting, pressing and clamping in tool, mould and fixture construction as well as in machine tools.
With a nominal pressure of 400 bar (5 802 psi) and a piston diameter of up to 125 mm (4.92 inch), KRACHT provides precision and safety for a multitude of applications. The compact size as well as various mounting and connection options facilitate problem-free installation even where space is limited.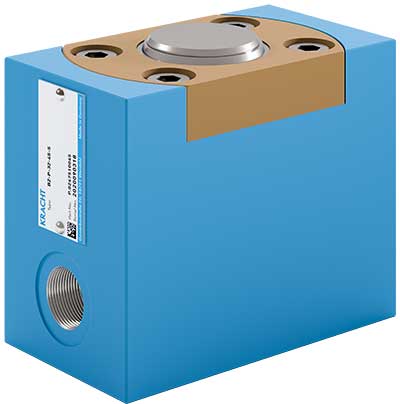 Nominal pressure
… 400 bar / … 5 802 psi
Piston diameter
40 … 125 mm / 1.57 … 4.92 inch
Stroke length
… 500 mm / … 19.69 inch
Series

Nominal pressure


bar
psi

Piston
diameter


mm
inch

Stroke length


mm
inch

Lifting speed


m/s
inch/s

Pressure medium temperature

°C
°F

Viscosity



cSt

Versions

Options

Data
sheet

Operating
instructions

CNL
… 200… 2 901
40 ... 1001.57 … 3.94
… 4 000… 157.48
0 … 0.50 … 19.69
-20 … 180-4 … 356
2.8 ... 380
· Differential cylinder· Synchronised cylinder· Push or pull cylinder· Plunger cylinder
· Stroke-end damping· Proximity switch· Electronic stroke measuring system· Water cooling· Special cylinders with a piston diameter up to 200 mm
PDF
-
-
BZ
… 400… 5 802
40 … 1251.57 … 4.92
… 500… 19.69
0 … 0.50 … 19.69
-20 … 180-4 … 356
2.8 ... 380
· Differential cylinder· Synchronised cylinder· Push cylinder· Plunger cylinder
· Stroke-end damping· Proximity switch· Electronic stroke measuring system· Special cylinder

-