kracht-special-pumps-1-en
kracht-special-pumps-2-en
kracht-special-pumps-3-en
In addition to our standard products, we develop special pumps in close cooperation with customers. They provide specific solutions for the most diverse fluid technology applications.
Feel free to get in touch with us. We would be glad to advise you.
TWO-STAGE LUBRICATING OIL PUMP OF A DIESEL ENGINE
Very slim pump design optimised for the installation space of a diesel engine with three gears for oil demand at high speeds. The pump has two suction connections to balance different oil levels and additionally a pressure relief valve.
PRE-LUBRICATION PUMP OF A DUAL FUEL DIESEL ENGINE
This pump has a housing design adapted to a diesel engine. The three different flow rates required are achieved by means of adapted gear ratios in the pump's own reduction gear. The pump also has an integrated pressure relief valve.
DIRECT DRIVEN DIESEL OIL PUMP
Specially optimised gear pump for pumping diesel oil at very low speeds, so an extremely wide speed range is enabled for this pump. The pump is designed for direct mounting on a diesel engine and has pressure control and shut-off valves and two optional pressure and suction connections.
DIRECT DRIVEN MAIN LUBRICATING OIL PUMP WITH CONTROL VALVE
Specially optimised lubricating oil pump for high speeds, suitable for direct drive by a gear on the crankshaft.
A special feature is the integrated pressure control valve with maximum pressure connection and the possibility of connecting an external pressure control line.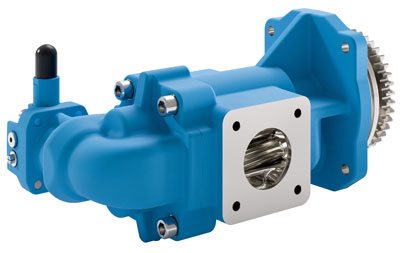 DIRECT DRIVEN MAIN LUBRICATING OIL PUMP FOR INSTALLATION IN THE ENGINE SUMP
Lubricating oil pump with a specially adapted housing construction for installation in the oil pan of a diesel engine.
Special features are the gear reducer and various pressure connections for the direct connection of oil filters and cooling circuits.
INTERNAL GEAR PUMP FOR GEAR LUBRICATION
Internal gear pump with involute gearing and a specially developed design for mounting on vehicle gearboxes.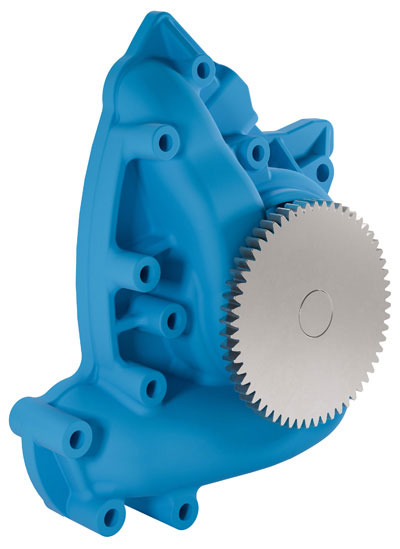 GEAR PUMP FOR THE LUBRICATION OF WIND POWER GEARS
Lubricating oil pump with integrated valve technology to ensure constant delivery direction with different directions of rotation. The pump is designed for coasting operation and for direct mounting on wind turbine gearboxes. Capable of cold weather operation (CCV – Cold Climate Version) or low temperatures down to -50 °C.
PUMPS WITH HEAVY-DUTY OUTBOARD BEARING
Standard pumps with special adapters matched to the specified installation space, including a drive gear for mounting and direct drive on a wide variety of machines. Particularly well-suited for absorbing high drive forces.